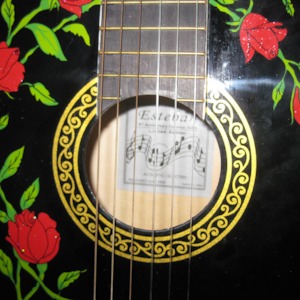 This is my first ever Podcast of me just playing on the guitar on 08/29/2016.
You will be hearing me just playing the E,F,G, notes on the 1st String.
These lessons I used as part of my daily warm up.

Guitar: Esteban 7th Anniversary Limited Edition Acoustic Electric Classical Guitar
Reading music from: Hal Leonard Guitar Method, Complete Edition: Books and CD`s 1, 2 and 3 by Will S
Each lesson is played 4 times:
1, Melody w/ guitar pick
2. Melody w/ finger picking
3. Improvised triad chords w/ guitar pick
4. Improvised triad chords w/ finger picking
I'm using w/ Lame MP3 encoding to record.
The podcast is broken up into 5 sections, click on each link to listen:


Mary D Playing Guitar - EFG Spanish Theme - 1:31 - 08/29/2016

Mary D Playing Guitar - EFG 4 - 1:43 - 08/29/2016

Mary D Playing Guitar - EFG 3 - 1:34 - 08/29/2016

Mary D Playing Guitar - EFG 2 - 2:30 - 08/29/2016

Mary D Playing Guitar - EFG 1 - 2:54 - 08/29/2016